Discover who you can be.
Everyone who experiences it will tell you: there's nothing like it. Part survival camp, part personal challenge, and part journey of self discovery. David Thompson Country, carved out by the glaciers millions of years ago, is the backdrop to this journey. Mountain Adventure School will challenge you to appreciate life in a new way.
Imagine spending up to two weeks at a summer camp, gaining skills in a variety of outdoor pursuit activities and achieving as many as 11 Alberta High School credits, all while earning certifications toward careers in camp leadership and guiding! HeLa Ventures and Progressive Academy's Mountain Adventure School provides exactly this opportunity to students all over Alberta. Professional teachers and guides facilitate this hands-on learning experience in a setting that is positive, supportive and fun.
Living and learning in a camp setting, students are introduced to whitewater canoeing, hiking, mountain biking, rock climbing and rappelling, wilderness living skills and more! Intermixed with these adventure activities are classroom theory sessions, and amazing opportunities for both personal and group development.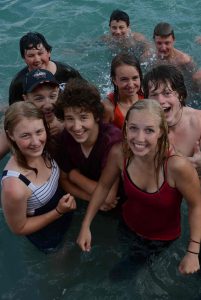 The three-year professional development program at MAS provides students with vital real world certifications in Standard First Aid, Alberta Waterfront Instructor Certification and Canadian Moving Water Skills Tandem. In addition to this, students are easily qualified to work summer jobs in youth camps, and the outdoor survival and emergency response training provide life-long skills.
Just minutes outside of Rocky Mountain House, the camp provides an experience like no other. All meals and accommodations are included in the program fees, and transportation to and from the camp by bus from Edmonton is provided free of charge. Students outside the Edmonton area can be dropped off and picked up at the camp.
The programs run in numerous summer sessions, so students can enrol in one or more of the programs offered. The learning environment is fast paced and students are required to have strong reading and writing skills.
Click here for program information and to register. For further information, call 780-455-8344.