Reinette Schabert
Program Coordinator
Reinette started this program in 2014 after graduating from the University of Alberta with a Bachelors of Education. She is trained in classical piano studies, and has always been passionate about the role music plays in our lives. When an opportunity came up to give students access to participate in private music lessons at Progressive Academy, Reinette immediately saw the value and potential of running the program. It started out with just piano lessons and has grown to include much more. Reinette has recently stepped back from teaching in the private music lesson program to focus on managing it. She is also currently pursuing a Bachelors of Music at Macewan University, majoring in recording and production. Perhaps we will see a Progressive Academy recording studio one day! In addition to playing music, recording music, and teaching music, Reinette also enjoys photography, going for walks with her husband and their poodle, and traveling the world. If you have any questions regarding the private music lesson program, please feel free to reach out to Reinette at reinette@progressiveacademy.ca. She looks forward to each and every unique year that the group of students bring to the private lesson music program.

Dale Osbaldeston
Drums, Guitar
Dale is a freelance musician that teaches and performs around Edmonton and surrounding areas. He has been immersed in art all his life and attended High School at Victoria School for the Performing and Visual Arts. Dale has been playing drums for 12 years and has studied multiple other instruments with several highly regarded teachers and performers around the city. He graduated from MacEwan University's degree program with a major in drum set performance. Dale plays a variety of music based around Jazz, Hip-Hop, Fusion, Rock, Pop, Folk, Funk, Country, and Classical. He also has a variety of teaching experience with varying ages that span from home lessons to contract work in private studios. Dale has been teaching at Progressive Academy for many years and he is excited to continue to help students develop their creativity and love for music!
NaharahWilmot
Vocals and Piano
Naharah Wilmot is a vocalist and a sound engineering student heading into her fourth year of Study in the Recording and Production Program at MacEwan University. She is passionate about many different aspects of music, but has a deep love for developing the voice. Naharah has 9 years of experience in public performance and has 7 years of Formal Voice Training and continues to study voice and vocal pedagogy with Denice Bennett at the Alberta Music Academy. She is also studying for the ARCT through the Royal Conservatory of Music. She is excited about passing on her love and knowledge of music to the younger generation and hopes to share the joy and purpose that music has brought to her life. Naharah joined the Progressive Academy team in 2021, and is always looking forward to meeting the next group of students!
Ryan Johnson
Piano 
Ryan Johnson is a pianist and composer and has been involved with music since before he can remember. He has been playing piano since he was three years old and has his Grade 10 with the Royal Conservatory of Music. Ryan's passion for music led to him pursuing a Bachelor of Music Degree from MacEwan University, majoring in Composition. Classically trained, he has since become proficient in jazz, pop, and modern contemporary music genres. He composes for a wide range of ensembles in varying genres but focuses largely on musical theatre works. Ryan joined the Progressive Academy team in 2023 and loves to spread the joy of music.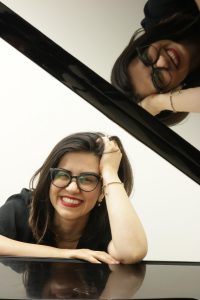 Maryam Soufisiavash
Piano
Maryam began her musical training at an early age. She graduated from the University of Tehran with a master's in Piano Performance. Maryam is completing her education in Canada at the University of Alberta, where she is studying for a D.M.A. in Piano Performance. She has worked with students with different levels of expertise, from elementary to advanced levels and with different ranges of ages. She currently continues her music career as a performer and piano teacher in Canada. She is highly organized, creative, caring, patient and nurturing. Besides being an educator, Maryam has also performed in various festivals as a soloist since 2015 and is active as an accompanist at various music festivals. In addition, she has participated as a finalist in several piano competitions, including the National Youth Music Festival (2016-2017) and Barbad Piano Competition (2017).  As a music teacher, Maryam's greatest motivation is the joy of discovering and exploring students' potential as musicians; and supporting them through their artistic journey.