Linnea Anstey (Salte)
Linnea is a John Lennon Songwriting Contest finalist, has been nominated for three Covenant Awards, and has songs play on the radio internationally. Being surrounded by a strong musical legacy was always an inspiration for her. Her father sold over a quarter million albums, owned an independent record label, and was the visionary of a creative arts conference in Edmonton called Break Forth. Linnea started to write songs and play piano at the age of three and went on to be trained through Suzuki and the Royal Conservatory of Canada in both piano and voice. Over the years, she has sung on over 20 albums including many projects with her brother, Jared Salte, who is a record producer, lead singer in The Royal Foundry, and songwriter in Nashville. Linnea has also started traveling extensively internationally as a musician and road manager. Her obsession to grow as a musician has lead her to pursue a Bachelor of Arts with Music Major at Vanguard College. Later, Linnea went on to teach and lead the music program at CLBI College in Camrose. This will be her second year teaching at Progressive Academy. Linnea is really looking forward to what is in store working with each of the students.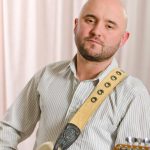 Stanley Gallant
Stan studied music at St. Francis Xavier University in Antigonish, Nova Scotia where he won The Governor General's Medal for academic achievement. He has over 2000 shows under his belt with a background in classical, jazz, musical theater as well as rock and contemporary music. He currently performs with prominent local acts Sweet Vintage Rides and Me Jollies. Stan is also busy with his solo show as well as working as a studio musician. His true passion above all else is teaching music. He is a gold medal winning teacher with The Royal Conservatory of Canada, owner of Stan Gallant Music Lessons and holds a teaching position at Progressive Academy.